At ELLERSLIE OSTEOPATHS we can take care of all your ailments and injuries. We are fully qualified and experienced in cranial Osteopathy and structural Osteopathic techniques and are specifically skilled to examine patients and ascertain which type of Osteopathy is the appropriate treatment for you.
Osteopathy is best known for relief of back pain but there are a range of problems that can be treated with thoughtful hands on Osteopathic treatment. Osteopathy improves the flow of blood though the tissues thereby improving the physiology, improving healing and reducing pain.
Unfortunately practical approaches to medicine, such as Osteopathy, have not remained fashionable as medical investigation and treatment become increasingly technical. Conventional medical treatment at the primary level is more about screening for serious illness than relieving pain and improving health.
Modern medicine has become very good at keeping people alive but may provide less effective remedies for the 95% percent of complainants who are not dying, but are not feeling well either.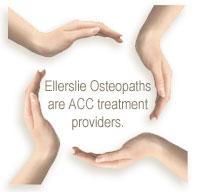 Osteopathy can be very useful for those complaints that are debilitating but which conventional medicine cannot treat or as an adjunct to more serious conditions. Improving blood flow will always be helpful to your health.
Location:Ellerslie Osteopathsis located in Auckland, New Zealand.We serve the area from central Auckland, Newmarket, Remuera, Epsom, Greenlane, Penrose, Ellerslie, Mt Wellington, Meadowbank, Pakuranga and Manukau. Just off the Motorway in Ellerslie.